The Complete Publishing Package
Stonebrook Publishing offers you a unique model in the world of hybrid publishing. We strictly work with high-impact nonfiction material that will either save lives, change lives, or transform society. We are "publishing with a purpose."  
You invest in our services, and when your book is published, all proceeds from book sales belong to you. In fact, the funds from sales are automatically deposited in your account each month, and after you are published, we collect nothing further from you for that project.  
Many self-publishing platforms publish anything and everything they can get their hands on, but that's now how we work. We carefully evaluate each submission against these criteria: 
Does the work have a message that can change lives, save lives, or transform society?

Does the writing meet our standards of writing?  
When we receive your manuscript, we evaluate it to determine what kind of editing is needed. Or if your manuscript is market-ready, you'll jump right into The Complete Publishing Package.  
---
Our signature offering is The  Complete Publishing Package, an all-inclusive service to publish your nonfiction book. The cost is $7,800 and it includes: 
Original, professional cover design with a minimum of 4 options for you to choose from 

Custom interior design and print layout for up to 100,000 words  

Proofreading of your final manuscript

Two hard copy proofs for verification purposes

Traditional distribution through our distribution partner, Ingram


ISBN purchase and assignment

Obtaining your Library of Congress control number (LCCN) 

Filing the book copyright in your name with the Library of Congress

Registering your book with Books in Print

When your book is finished and available for purchase, all proceeds from the sales go directly to you! There are no royalties to share. You did all the work, and all the proceeds from sales go to you!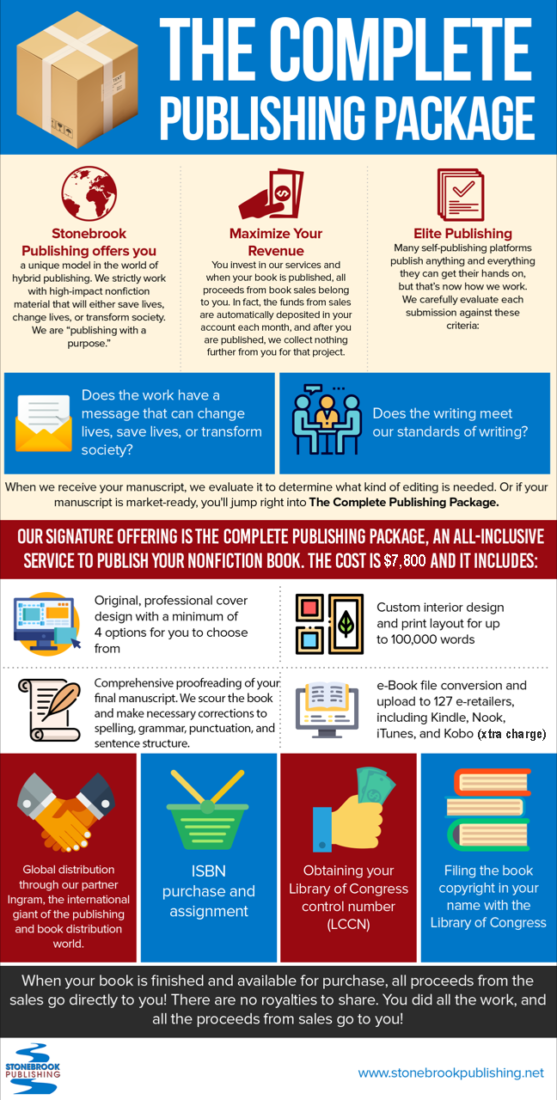 Please fill in the form below for more information about The Complete Publishing Package.