The Podiatry Practice Business Solution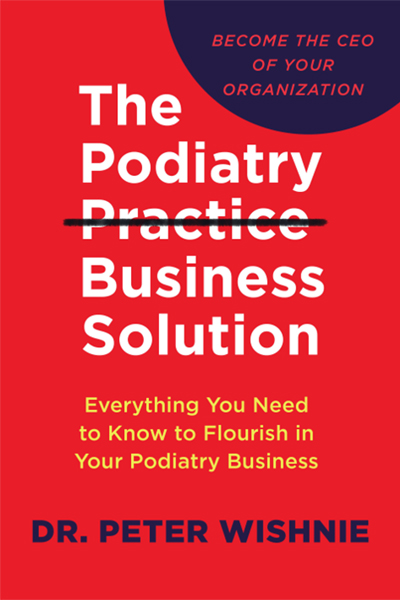 Podiatrists have long had difficulty finding a resource that addresses their specific needs to manage their practice as a business. That's right—you're not only a medical provider; you're a business owner, the CEO of your own organization. If you've been frustrated about the amount of money you take home versus the number of hours you work, this book is for you.
The Podiatry Practice Business Solution will teach you how to manage every aspect of your business to make it more efficient, from hiring you're a team, to focusing on your practice goals, to evaluating the numbers—all for the purpose of being much more profitable. You'll learn everything you need to know to be a successful businessperson who practices podiatry.
The goal is to love your life. And if you don't love your podiatry practice—if it's actually sucking the life out of you instead of energizing you—then you can't love the rest of your life. Learn from Dr. Peter Wishnie how you can run a profitable podiatry practice and get your nights and weekends back! 
About the Author:
Dr. Peter Wishnie has practiced podiatry in central New Jersey for over thirty years. He completed his undergraduate studies at Stony Brook University in Long Island, New York, then studied podiatric medicine at the California College of Podiatric Medicine (now called The California School of Podiatric Medicine at Samuel Merritt University). After a one-year surgical residency at Parson's Hospital in Queens, New York, he received a fellowship in foot and ankle surgery at Hadassah Hospital in Jerusalem, Israel.
In 1989, Dr. Wishnie purchased a practice in Piscataway, New Jersey. Since then he's opened a second practice in Hillsborough, New Jersey and has three associates. He's a student of personal development and is a John Maxwell certified leadership coach. Dr. Wishnie is the Director of Physician Programming at Top Practices, an organization that helps podiatrists to market and manage their practices.
Dr. Wishnie is board certified by the American Board of Podiatric Surgery and is a fellow of the American Academy of Podiatric Practice Management. He has lectured on many different topics of practice management both nationally and internationally. He has three sons, Samuel, Alec, and Benjamin, and an amazing girlfriend, Jaimie. He enjoys all sports, especially baseball and football. He's an avid concert goer and enjoys going to the gym. He lives in Somerville, New Jersey.
Purchase Price:
$29.97 Hardback
Purchase